Water Damage Restoration for Your Phoenix Home
10/11/2019 (Permalink)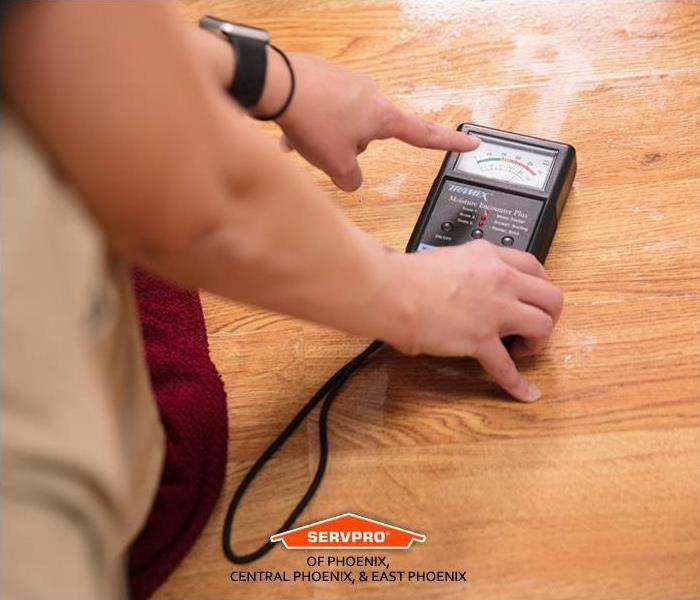 After your residential property in Phoenix has experienced water damage, finding a professional restoration service is very important. Learn more about what the water damage restoration process entails and how to choose the right professional for the job.
Water Damage Restoration Guidelines
The Institute of Inspection Cleaning and Restoration Certification (IICRC) and the Restoration Industry Association (RIA) have outlined standards that can be used as guidelines when dealing with water damage. In most cases, companies like SERVPRO of Phoenix use the IICRC's set of procedural standards. However, the standards do not to teach people comprehensive procedures for water damage restoration itself. Individuals and companies who utilize these standards must be aware of contemporary techniques and must also abide by all regulations and procedures by local, state, and federal laws.
Loss Assessment and Evaluation Process
The loss assessment and evaluation process is most effectively completed by a trained water damage restoration technician. A SERVPRO of Phoenix expert will utilize the Contents Claim Inventory Service (CCIS) form. This technician will document all the personal possessions affected by water damage. This document will help you in your communications with your insurance company concerning your Phoenix home.
Water Damage Restoration Services
Services offered by a SERVPRO of Phoenix water damage specialist will be customized to get your residential property back in order. One service that is available is the use of water sensing equipment to inspect areas of the home that have been affected by water damage. Tools and equipment used for this purpose include probes and infrared equipment. After the inspection is complete, our water remediation specialists will then dry out your home and sanitize any contaminated areas. These areas of the home will also be deodorized if necessary. Throughout the cleaning process, the remediation specialist will use equipment such as dehumidifiers, air scrubbers, air movers, and floor drying systems to optimize the restoration process and preserve structures and contents. Moisture meters measure specific water content in affected items which can help keep any future mold issues that may arise to a minimum.
Monitoring
Even after the entire process of water damage restoration is completed, it's important for an expert to visit for a follow-up inspection. Your property will be monitored for moisture content, humidity, and temperature of the treated areas to ensure there is no risk for mold damage.
Final Inspection and Completion
Once the moisture content, humidity, and temperature are within acceptable industry standards, the water damage remediation specialists will any remaining equipment from your property.

Let The Professionals of SERVPRO of Phoenix Assist You

While handling the aftermath of water damage can be challenging, we are here to help. The trained professionals of SERVPRO of Phoenix have extensive industry experience and operate in compliance with all rules and regulations outlined by the IICRC S500. We offer 24/7 services from a crew of trained professionals.
Locally Owned and Operated
Our SERVPRO of Phoenix team has various recovery equipment at hand, designed to reduce any water damage threat quickly. You can count on our IICRC-certified professionals to respond 24/7 to any water damage restoration need and make it "Like it never even happened". Give us a call today at (480) 503-2090.