Let SERVPRO Help with Your Biohazard Cleanup Needs
7/12/2022 (Permalink)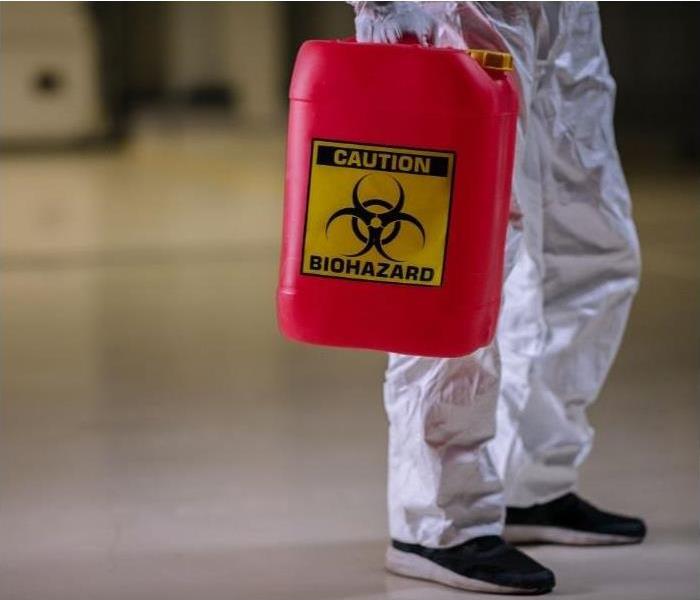 Most homeowners don't even think twice about knowing who to call for a biohazard situation. If it does possibly cross their minds, the word "biohazard" typically is thought to be something like bodily fluids or perhaps toxins that need to be cleaned up. However, biohazard cleanup addresses an array of cleanup situations best left to the professionals.
What is considered a biohazard that needs professional cleanup?
The decontamination of a home or business due to trauma, sewage backups, chemical spills, hoarding, or other biohazards can be both dangerous and emotional. In addition to what is listed above, here are situations considered biohazardous and best left to the biohazard cleanup professionals at SERVPRO:
Crime scene residues
Suicide/death accidents
Homicide cleanups
Blood cleanup
Accident cleanup
Animal waste/remains
Tear gas cleanup
Meth lab cleanup
SERVPRO has dealt with all of these situations and knows how to approach them for the best possible outcome.
How SERVPRO can help
Sewage backups and dark water introduce harmful microorganisms into a home. We remove the sewage, contaminants, and moisture, and help ensure the structure is thoroughly cleaned, disinfected, and deodorized. In trauma, medical or crime situations, we remove and dispose of bodily fluids, tissue, and other potentially pathogenic substances resulting from accident, trauma, crime, or death according to state guidelines. Trained SERVPRO of Phoenix Professionals clean, disinfect and deodorize the structure to help homeowners recover. SERVPRO realizes many of the chemicals used in the production of illegal drugs are volatile and can leave harmful residues throughout a structure. Should your home experience such a biohazard, we can help. We follow federal and state guidelines to meticulously clean all surfaces.
No matter the situation, SERVPRO can help
We are available 24 hours a day—our highly trained technicians are standing by to help in any emergency. We have qualified trained professionals who are ready to respond to these incidents. Understanding the additional stress caused by biohazardous situations, we will always treat your property and the people involved with the greatest empathy and respect in the face of trying circumstances. If you need assistance with biohazard cleanup, don't hesitate to contact SERVPRO of Phoenix at 480-503-2090.