Following Fire Codes Can Protect Your Business
11/8/2021 (Permalink)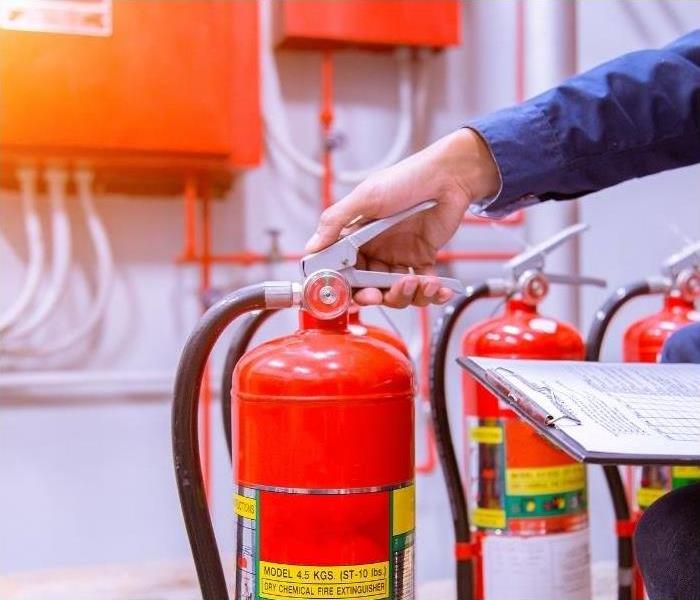 Fire can be devastating to businesses of any size. Recovering from a fire-related loss can put a huge strain on your business. And yet it's common for us to see commercial building fire damages in Phoenix for a variety of reasons. It's essential to protect your business and to do that, keeping up with the latest fire code is necessary. Be sure your business is practicing good fire prevention with these steps so you can rest easy that you're protected.
Preventing fire by following the codes
The Phoenix fire code is updated annually. The code, based on the International Fire Code, provides fire and life safety standards for buildings, processes, and fire protection equipment installations in the City of Phoenix, so business owners should be aware of its contents and follow the recommendations. The Code is a companion code to the International Codes which were implemented by the City of Phoenix Planning and Development Department establishing the construction requirements for all development in the City of Phoenix. Unfortunately, many owners of commercial property are unaware of these frequent updates and fail to update the fire prevention system they have in place when these updates occur. It's important to stay informed and in code for your safety. In addition, not following fire codes and result in code violations. Code violations that are fairly common among commercial property owners include:
Failure to install sprinklers within buildings that require them (some are exempt).
Failure to install fire alarms where they are now required.
Failure to update fire prevention equipment to comply with structural changes to the property. This includes signs, extinguishers, and fire department hookups.
Failure to maintain fire exits up to code standards, including proper signage.
Ensure you're following the fire code for safety
The most common violations listed above are easy enough to avoid and should be taken more seriously by business owners of any size. If you're unsure how to follow the code basics, contact your local Phoenix Fire Department and request to have a fire professional come out to your site prior to the official inspector, and educate yourself and your team on the fire hazards in your commercial property as well as any violations that may exist. This will help keep your business protected from fire and within code at all times, avoiding potential violations.
What to do when a fire occurs
Regardless of safeguards that may be put in place by commercial building owners, fires still happen sometimes, leading to considerable damage. When that happens, property owners should contact SERVPRO of Phoenix for our fire mitigation and restoration services. We also provide reconstruction for structures when needed as well. Fire remediation can help restore your commercial property to pre-fire condition, but it's important to act fast to get fire remediation specialists out as quickly as possible to address the damage. If you find yourself dealing with commercial property fire damages, trust in SERVPRO of Phoenix and our professional fire remediation services. We offer immediate emergency service 24/7, so call 480-503-2090 and our trained fire technicians will be there to restore your commercial property damaged by fire.